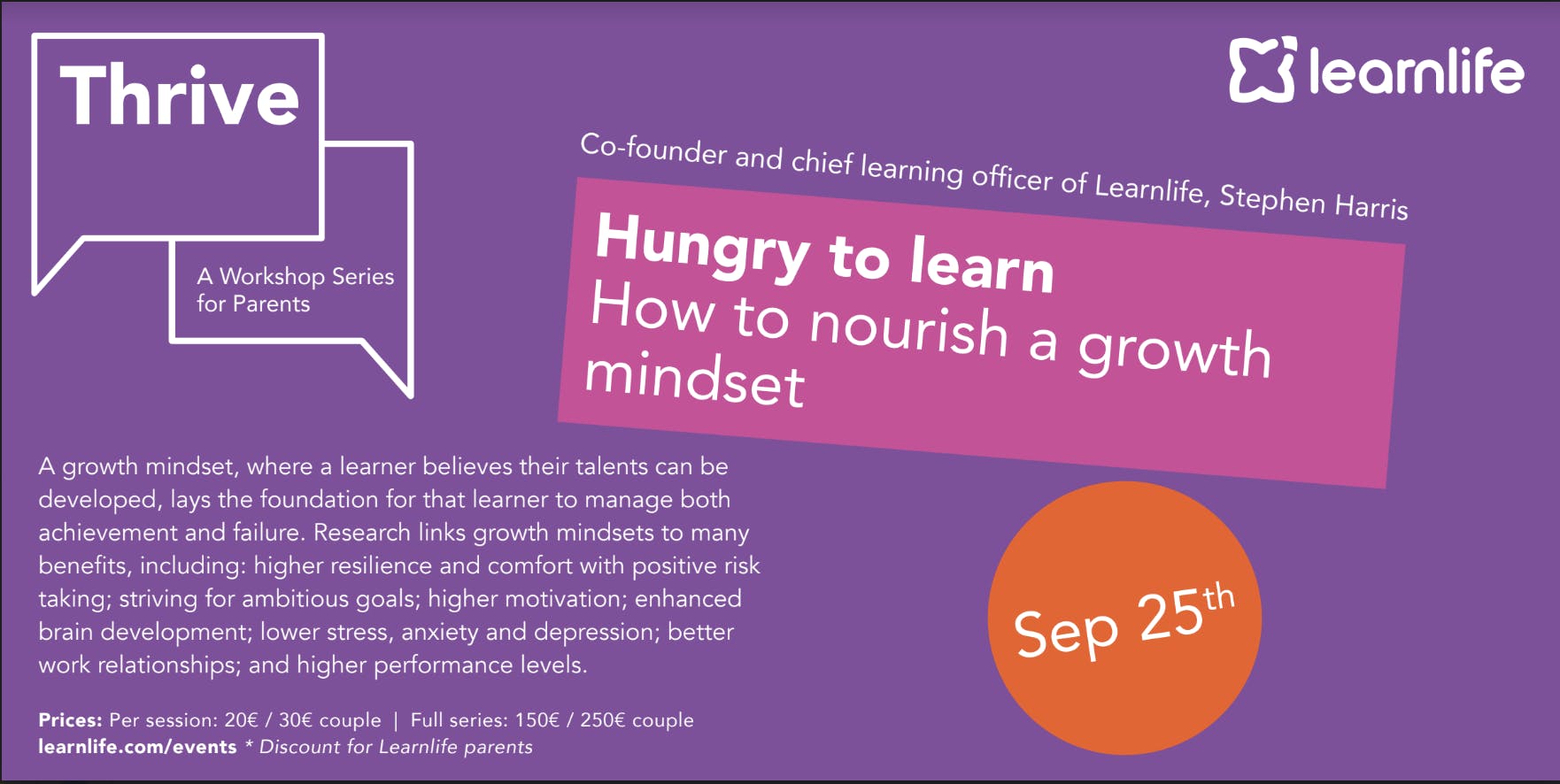 A growth mindset, where a learner believes their talents can be developed, lays the foundation for that learner to manage both achievement and failure. Research links growth mindsets to many benefits, including: higher resilience and comfort with positive risk taking; striving for ambitious goals; higher motivation; enhanced brain development; lower stress, anxiety and depression; better work relationships; and higher performance levels. Hungry to Learn will provide tools to parents for how to help their children develop a growth mindset, and provide a forum for parents to share best practices.
About our Speaker:
Co-founder and chief learning officer of Learnlife, Stephen Harris (Australia) has three decades of experience as a leader in innovative learning. A fellow of the RSA (Royal Society for the Arts (UK), Stephen just finished a Ph.D. about the role of visioning a preferred future as the catalyst for sustained educational change in schools. Before joining Learnlife, Stephen was the principal of Northern Beaches Christian School, arguably Australia's most innovative school, for twenty years and the founder of the Sydney Centre for Innovative Learning.
Please register here via Eventbrite.
About the THRIVE workshop series:
The challenges for a 21st Century parent are many: from device addiction to hormone-induced tantrums; from avoiding the perils of helicopter parenting to preparing your child for an unpredictable future.  
"THRIVE: Forever Learning and Growing" is designed to provide parents with support for these challenges--to give you a space to meet other parents, share your story, learn about the latest research and trends in parenting, and gain practical tools and strategies that you can immediately start using with your children. 
Each month our experts will facilitate interactive sessions on different hot topics in parenting. Upcoming sessions include: 
September 25 - Hungry to Learn: How to Nourish a Growth Mindset
October 24 - Get Out of the Helicopter and Help Me Put on this Jetpack- Coaching Your Kids to Be Independent and Ready for a Complex, Fast-Paced Future 
November 21 - The Perils of Technology: How Can Parents Get Back in Charge?   
December 12 - The Superhero Inside: Discover and develop the natural talents of your family members. 
January 23 - Talking to Teens: Become Your Child's Best Coach 
February 13 - Beyond Tantrums and Threats:  Strategies for healthy dialogue, conflict resolution, and collaborative problem solving with your child 
March 19 - Be Kind to Your Mind: Developing Positive Habits to Support Mental Health and Cognitive Functioning 
April 30 - Getting Intimate! Dating, Sex, and Pornography in the 21st Century
May 21 - 21st Century Trends that Will Impact How Your Kids Learn, Live and Work 
Prices:
Per session: €20 individual; €30 couple
Full series: €150 individual; €250 couple
To register for the full parenting series or an individual session, please do it here via our Eventbrite page.
Speakers
Dr. Stephen Harris
Co-founder and Chief Learning Officer of Learnlife
Location
Learnlife Barcelona
Carrer d'Enric Granados, 7 08007 Barcelona (Spain)